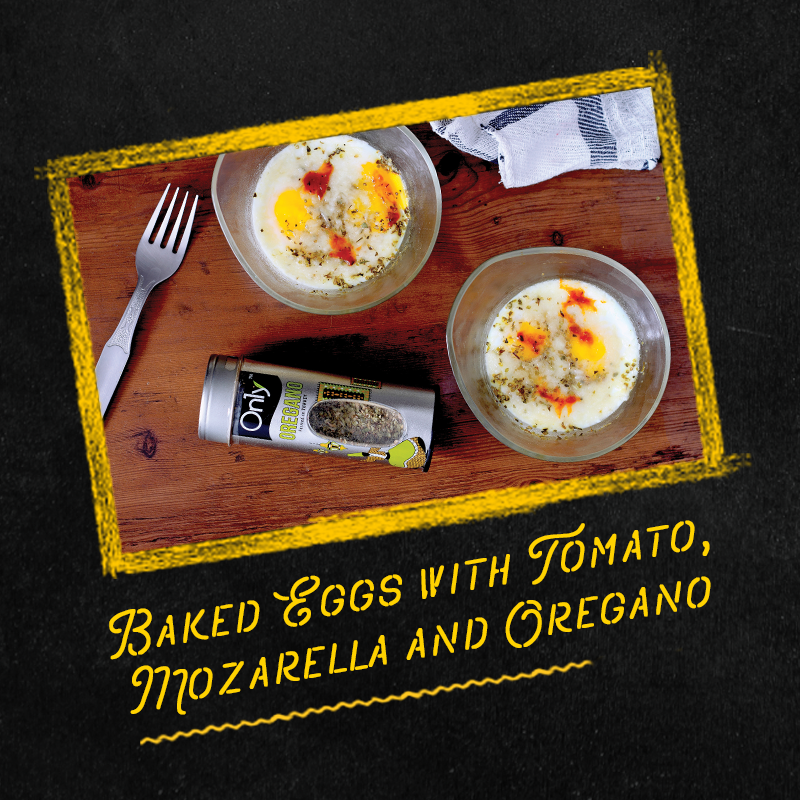 Ingredients -
Olive Oil – 2 tbsp
Chopped Onion (small) – 1/2
Garlic Cloves (minced) – 2
Crushed Tomatoes – 1 cup
Heavy Cream – 4 tbsp
Fresh Mozzarella Cheese – 125 g (drained and cut into 1/2 inch pieces)
On1y Oregano – 3 tbsp
Salt and freshly ground pepper
Eggs – 8
Buttered toast for serving (optional) – 4 slices
Procedure -
In a heavy saucepan over medium – high heat, warm the olive oil. Add the onion and sauté for about 5 minutes until translucent.
Add the garlic and sauté for about 2 minutes until soft.
Stir in the tomatoes with their juices, season with salt and pepper, and bring to a boil. Simmer and cool.
Preheat an oven to 180° C.
Place four 1/2 inch ramekins on a baking sheet.
Spoon 5 tbsp of the tomato sauce and 1 tbsp of the heavy cream onto each ramekin.
Top with the mozzarella and the On1y Oregano, dividing them evenly.
Break two eggs into each ramekin and season with salt and pepper.
Bake for about 15 minutes until the egg whites are opaque and the egg yolks are set, but still runny in the middle. The eggs will continue to cook from the residual heat.
Sprinkle On1y Oregano, cool slightly and serve with toast if desired.
Share -