Recipes
Use our new Recipes to save recipes, create menus and meal planning Ideas and share with our community of Foodies for tips, guides and more
Scroll down to view the recipes from the Country's top chefs.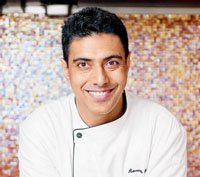 Ranveer Brar
Ranveer is an Indian chef, TV show host, judge and food stylist. His television shows include Breakfast Xpress, Snack Attack, Homemade, The Great Indian Rasoi,Health Bhi Taste Bhi, Ranveer's Cafe, Food Tripping and Thank God It's Fryday. He was also one of the judges for Season-4 of MasterChef India, which is based on the British competitive cooking game show, MasterChef, alongside fellow chefs Sanjeev Kapoor and Vikas Khanna.
He has hosted various cookery shows on Living Foodz (formerly known as Zee Khana Khazana Channel) such as The Great Indian Rasoi Seasons 1 & 2, Breakfast Xpress, Snack Attack, Ranveer's Cafe, and a new show from 30 May 2016, titled Food Tripping along with Chef Gautam Mehrishi being telecast on Living Foodz. Other shows he has hosted include Seasons 1 and 2 of Thank God Its Fryday in association with Philips India on Zoom TV.
He has designed and created an exclusive menu for the upcoming MTV India chain of restaurants, launched by Viacom 18 consumer products wing. FLYP @ MTV, the first restaurant opened in Delhi in mid-December 2015.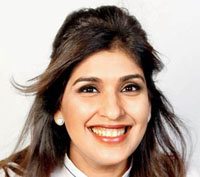 Rakhee Vaswani
Rakhee is a celebrity chef, culinary expert, food consultant, teacher, author, Cooking show host, entrepreneur and above all, a food lover at heart.
Certified by Le Cordon Bleu at Gordon Ramsay's Tante Marie in London, Rakhee began her culinary journey at the tender age of 11, keenly observing her aunts cook delicious food that caught her fancy (and her heart). Touted to be "the 'Desi Nigella' of India, Rakhee is a natural with flavours and textures, her biggest asset being her strong palate and a deep rooted passion for the culinary arts and food the industry.
Rakhee's vision to make world cuisines easily available in our city led her to pioneer the birth of the first set of cooking studios in India with Palate Culinary Studio taking form in early 2010. Over two decades of experience in the culinary business and her natural gift for teaching have catapulted Palate Culinary Studio from a small mom-and-pop shop to a state of the art international cooking school where she trains budding chefs, amateurs, professionals and food enthusiasts alike, all within 4 years' time! The Confederation of Tourism & Hospitality has proudly made Palate Culinary Studio the first center to provide a UK-Certified Culinary Diploma Course in India.
---
Contact