VIEW OUR RANGE OF GRINDERS
Scroll down to view the entire range of Grinders.

ITALIAN SEASONING GRINDER
---
Viva la Italiana!
Hot and Spicy flavours for stewed, baked or roasted La Italiana delicacies. A unique mix of herbs and spice that can add heat to authentic Italian dishes, just perfect for the Indian palate.
---
Ingredients
Crushed Chilly

Black Pepper

White Onion Flakes

Basil

Garlic
Lemon Zest

Salt

Oregano

Thyme

Fennel

SALAD SEASONING GRINDER
---
Enliven the Freshness!
Adds extra zing with a twist to an all-time favorite appetizer with a zesty mix of salt, pepper and other specially curated ingredients! Handy for seasoning traditional Indian or exotic salads and other quick-fix preparations.
---
Ingredients
crushed chilly

black pepper

mint

black salt

sea salt
lemon peel

Vegetable Soup Seasoning Grinder
---
Essentially Healthy!
Savour every spoonful of steaming hot and refreshing vegetable soup or chicken shorba with a myriad of seasoning flavours. Add this speciality herbs 'n spice essence to thick creamy or clear soup for enriching health and taste.
---
Ingredients
black pepper

spring onion

salt

ginger

ROASTED GARLIC & PINK SALT GRINDER
---
Roasted Flavours!
A warm seasoning that accentuates the flavours of Indian and Continental dishes with its fine blend of salt mined close to the Himalayas and roasted garlic flakes. Make a Garlic Bread Spread, sprinkle it on Pizzas or Vegetables and enjoy a versatile seasoning blend.
---
Ingredients
roasted garlic

pink salt

ALL PURPOSE SEASONING GRINDER
---
Speciality Blend!
An aromatic blend of a multitude of herbs and spice to satiate even the most discerning gourmet. This signature seasoning gives everyday cooking a delicious twist. Enjoy it on curries, vegetables, gravies and meat dishes.
---
Ingredients
crushed chilly

black pepper

garlic

black salt

coriander
lemon zest

MEAT SUPREME GRINDER
---
Flavourful Treat!
A unique blend of herbs and spice to satiate every gourmet's cravings for well-balanced flavors. Add a twist of rosemary, thyme and pepper in a variety of meat and vegetable delicacies.
---
Ingredients
black pepper

onion flakes

yellow musturd

sea salt

thyme
green pepper

rosemary
HOW TO USE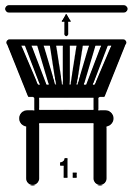 Pull open the Cap lid.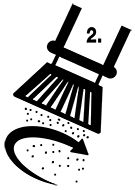 Turn the container upside down,
& twist clockwise to grind.

Replace cap lid & refrigerate
or store as recommended.